Sustainability solutions for you
As a business (group), we have developed solutions to help businesses be more sustainable.
SAP Profitability and Performance Management (PaPM) is a native SAP HANA solution that manages and runs complex calculations, rules and simulations. Because there is no fixed data model, the solution is extremely flexible and allows you to create rapid profitability and cost analyses with minimal IT involvement. You define the data sources and dimensions you need and want. PaPM shows you in real time where which costs arise and in which area the profit potential is greatest. Prepare strategic decisions regarding products, customers and sales channels. With cost and profitability models, you can transparently maximise the profit potential.
Our easy!sustain solution provides the necessary information for a legally required sustainability report. The collected data and improvement potentials are in line with the legal requirements. easy!sustain was developed in cooperation with Denkstatt.
easy!sustain supports companies in making their progress in the area of sustainability measurable and traceable. This is done, for example, by recording data such as electricity consumption, water consumption, heating energy used, etc. and can then be compared with reference values such as the number of employees, gross floor area. This makes it possible to form key figures such as "electricity consumption per employee", which are visually displayed in dashboards. In this way, it can be determined how much one has improved or worsened.
We developed the "Smart Airport City" app for Vienna Airport to increase energy efficiency in order to achieve their goal of complete C02 neutrality by 2030.
With this app, cooling and heating devices as well as electricity consumption can be read out and optimised. For special needs, custom trend visualisations and formula editors have been implemented, which allow the airport to react quickly and efficiently to possible changes in energy demand and thus further save energy. Through the targeted use of the application, the effectiveness of the measures is constantly monitored.
Our offer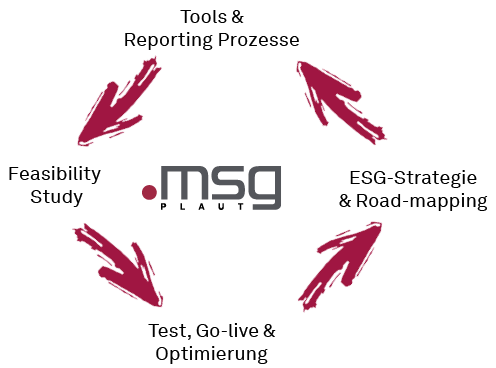 Together with our partners, we provide you with extensive support to achieve your sustainability and ESG goals:
Tools & Reporting Processes
ESG-Strategy& Road-mapping
Test, go-live & Optimisation
Feasibility Study
End-2-End support on sustainability & ESG issues

Regulatory

Many ESG requirements laid down by regulation
Complete coverage of currently applicable and pending ESG regulations ("baselining") incl. gap analysis

Sustainability Strategy / "ESG Impact"
Strategic ambition for positioning the company on the asset and liability side of the balance sheet (i.e. investments and products)
Corporate roadmap for sustainability in the company's own operations, including claims
Mapping of the sustainability strategy in the customer journeys

Sustainability risks / "ESG Risk"
Consideration of the Merchant's exposure to ESG risks in relation to financial assets, products and operations
Derivation of recommendations for action

Information management

ESG is a highly data-driven topic along the entire value chain - appropriate structures and processes are required
Identification and connection of the relevant data pools for overall transparency and management of ESG

Identification of growth areas

Business model sustainability: Economic action taking into account ESG innovations as a growth opportunity
However, identifying and successfully occupying the growth areas that are suitable for your company is challenging
This might also interest you: