Record, report, and act to improve
your sustainability performance with ease
Establish a centralized repository for your company's environmental, social, and economic endeavours, ensuring a single point of truth. Seamlessly handle diverse reporting obligations, compliance measures, and regulatory disclosures by leveraging a comprehensive overview spanning all organizational tiers.
Record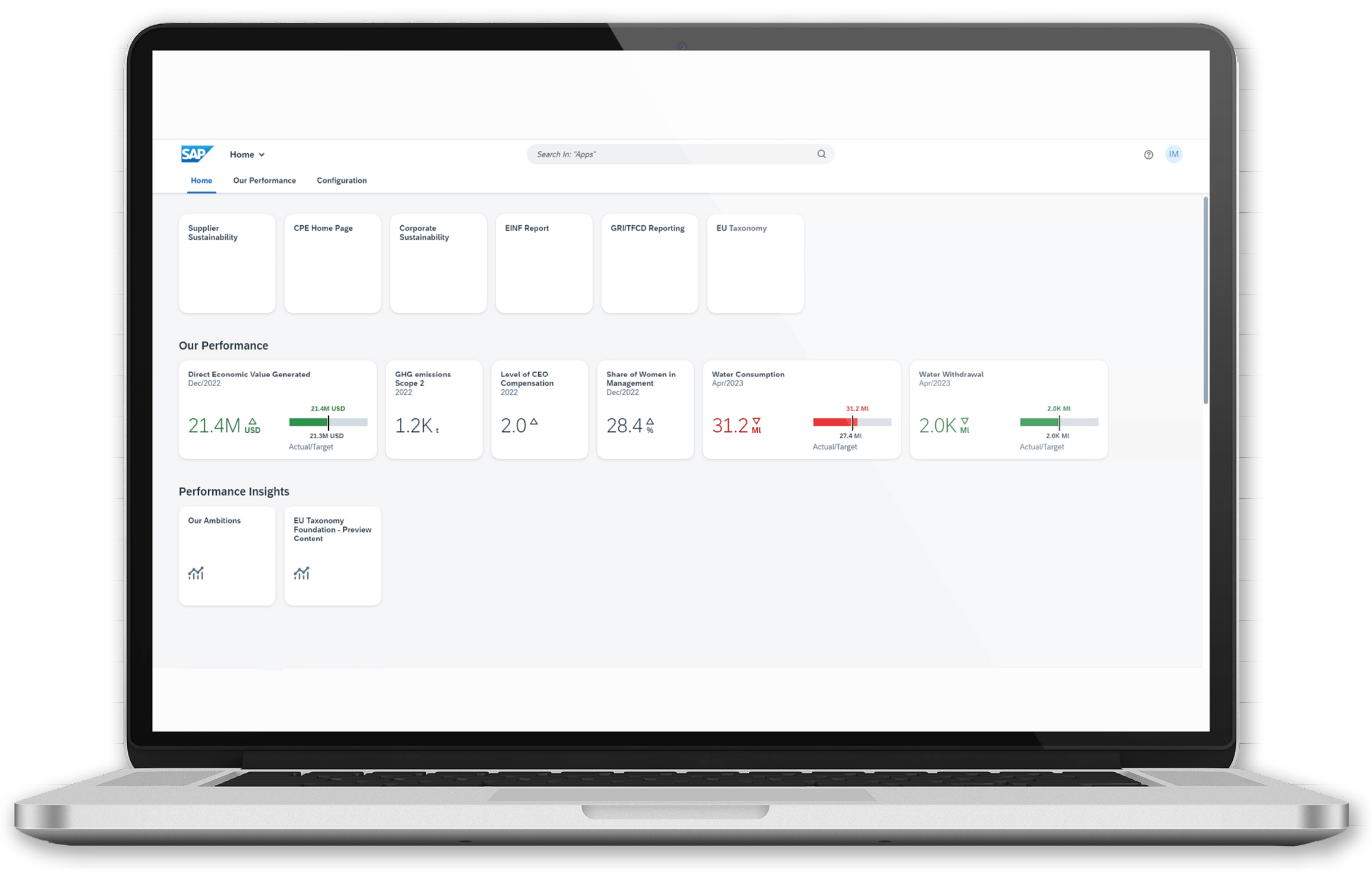 Enhance operational efficiency through streamlined data imports and automated updates.
Effectively handle large volumes of data across different organizational levels.
Centralize sustainability-related data within your company for improved accessibility and coherence.
Elevate data quality and reliability to drive better insights and decision-making.
Report
Generate dynamic reports using real-time data for actionable insights.
Maximize efficiency by leveraging pre-existing sustainability-related sample content.
Quickly respond to diverse stakeholder demands by tailoring reports to their specific requirements.
Produce audit-ready reports that meet regulatory requirements and align with industry standards.
Ensure compliance with regulatory mandates and achieve alignment with sustainability objectives.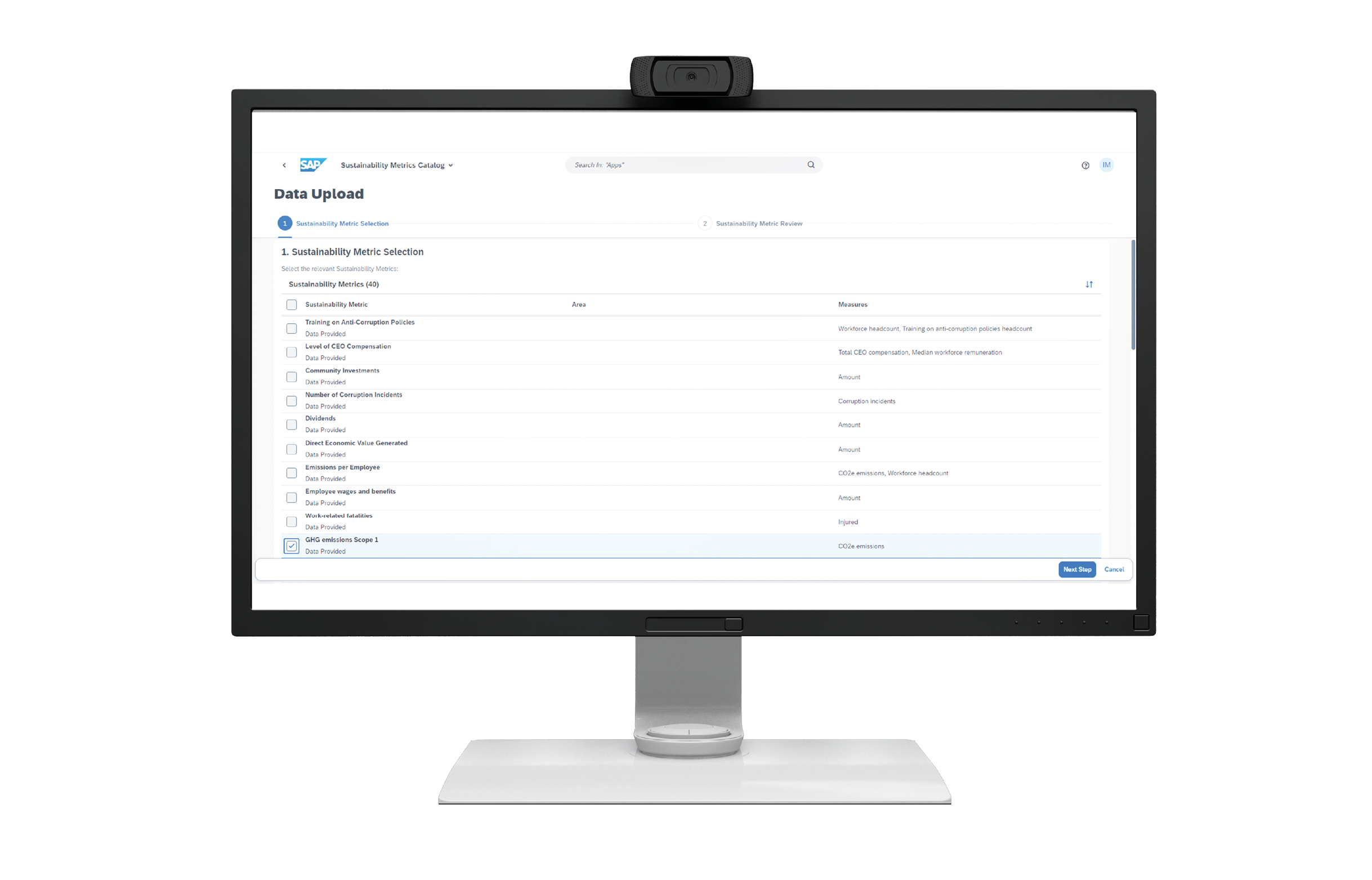 Act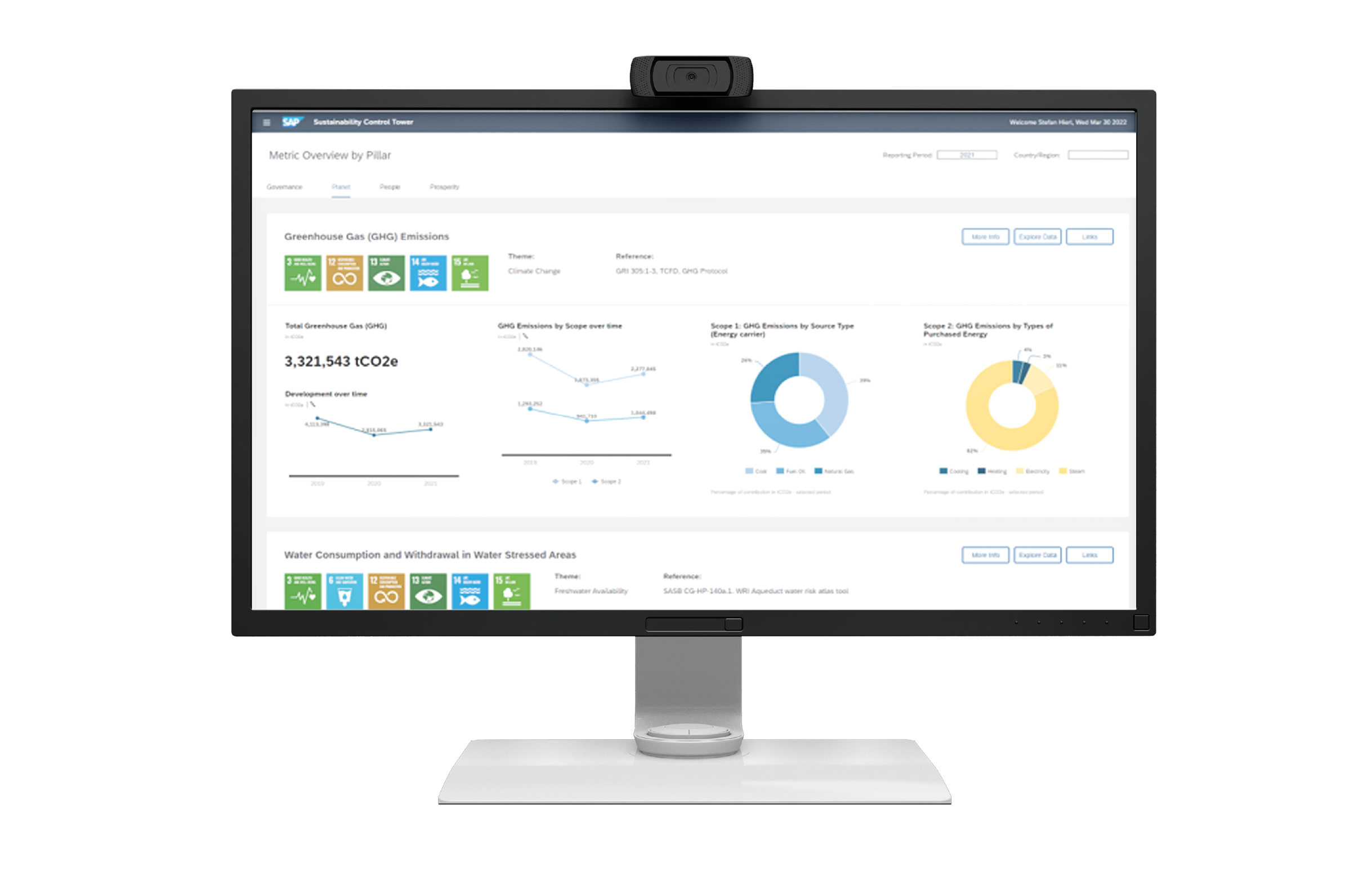 Obtain valuable insights to define and pursue sustainability ambitions and objectives.
Utilize "what-if" scenarios to make informed, data-driven decisions in strategic planning.
Proactively address identified risks and opportunities, establishing short-term, mid-term, and long-term action plans.
Set ambitious, tailored targets specific to your sector and company, fostering progress and sustainability.
Continuously monitor performance and identify actionable steps for improvement.
Ensure compliance with mandatory regulations and leverage
industry best practices to drive sustainability forward
Enhance the significance of your sustainability reporting with globally recognized frameworks.
Optimize the relevance of your reports by adhering to internationally accepted reporting frameworks such as GRI, TCFD, CDP, SASB.
Enable reporting that aligns with sector-specific recommendations, empowering your organization through initiatives like SBTi.
Stay compliant with EU regulatory requirements for sustainability reporting.
Ensure alignment with the latest regulatory mandates such as CSRD (Corporate Sustainability Reporting Directive) and EU Taxonomy.
Generate auditable reports that adhere to the recommendations provided by the European Commission, promoting transparency and accountability. fit the needs of your business and optimize the workflow based on different user roles.
Increase efficiency with pre-defined, ready-to-use content.

Optimize your
sustainability strategy with
EU Taxonomy
compliance.
Evaluate your company's eligibility and alignment with environmentally sustainable activities based on the EU Taxonomy. Calculate key metrics such as Turnover, Capital Expenditure (CapEx), and Operational Expenditure (OpEx).
Generate comprehensive reports on your investment portfolio, highlighting activities that align with the EU Taxonomy's criteria for sustainability.

Drive your energy transition
towards net-zero with
effective energy
management.
Assess emission reduction ambitions by transitioning to renewable energy sources and implementing energy-efficient practices. Analyze the financial and environmental impact of energy transition projects.
Facilitate accurate calculation of greenhouse gas (GHG) emissions, following the GHG Protocol guidelines for Scope 1, Scope 2, and Scope 3 emissions. Establish near-term and long-term targets in alignment with the SBTi (Science-Based Targets initiative) Net-Zero Standard.

Enhance production quality
and sustainability
management with
comprehensive insights.
Gain a holistic analysis of carbon emissions and resource consumption associated with products, production orders, work centres, and production activities.
Evaluate key metrics such as GHG emissions, electricity consumption, gas consumption, and water consumption to improve the sustainability performance of your manufacturing operations. Leverage "what-if" simulations and analyses to drive informed decision-making and optimize resource utilization.

Drive sustainability
across your
value chain with
effective management.
Evaluate the sustainability performance of your company's operations and value chain using recognized corporate sustainability reporting frameworks as reference.
Analyze greenhouse gas (GHG) emissions in accordance with the GHG Protocol and other environmentally related key performance indicators (KPIs) throughout the product life cycle. Gain insights into the environmental impact and identify areas for improvement to enhance sustainability practices.

Optimize sustainability
in financing and
investment
management.
Assess your portfolio's financial assets to identify opportunities for sustainable investments.
Generate comprehensive reports on the economic, environmental, and social performance of investments, including strategies and regulatory compliance. Gain valuable insights into the sustainability impact of your investment portfolio and make informed decisions to align with your sustainability goals.
This might also interest you: