Methodical & professional
requirements engineering by msg Plaut
Innovative products can secure a company's market position and thus its profitability. New products are brought to market in ever shorter cycles. However, the most innovative product is of no use if it does not meet the requirements of the market or the users. Therefore, it is important to focus on the needs as concretely as possible from the beginning, but also to give the developers enough freedom for creative solutions.
For us, methodical and professional requirements engineering is the prerequisite for successful software projects - both in the classic sense and in the context of digital transformation. Only in this way can promising ideas be realised and effectively implemented in software development.
msg Plaut offers a holistic approach to requirements engineering in the full digital value creation cycle: be it in planning, project management, during development, testing or operation - we think everything through!
Requirements engineering for better
control & higher efficiency of projects
At msg Plaut, we have in-depth IT and industry knowledge, methodological expertise based on established standards, creative investigation methods and broad experience in the use of documentation and modelling in IT projects.
This enables us to capture your requirements precisely, always in line with your needs and environment, and to optimise them accordingly, refining them with custom-fit detailing for implementation. Based on these requirements, the costs of your project can be estimated at an early stage.
The combination of experience in the methodology of requirements engineering in the classic, agile or hybrid process model, industry expertise and knowledge of how to drive digital transformation ensures the success of your project.
Our methods are based on the established IREB and the prevailing ISO standards.
In line with our methodological and technical approach, our portfolio includes the following types of results and service modules: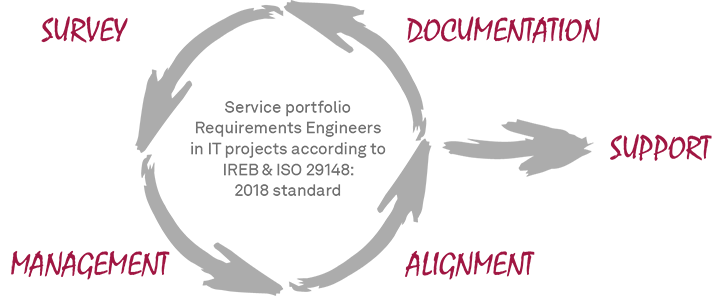 Interviews & workshops
Requirements gathering
Analysis of the project
Outlining possible solutions
Estimation of efforts
Documentation of decisions and changes
Versioning / dependencies
Setting up and maintaining a backlog or specifications/ requirements specification
Modelling of processes and data
Checking and coordinating the requirements
Asking the "right" questions
Stakeholder management
Support in the agile process
Central interface between specialist department & development
Improved reporting (statistics & KPIs)
Why with msg Plaut?
Requirements engineering as a key discipline decides decisively on the success or failure of a project. The methodical approach aims to capture, analyse, document, check and manage the ideas, motives, framework conditions and ultimately the individual requirements in a structured way. Requirements engineering offers numerous advantages in every phase of your project. Thanks to our many years of experience in consulting projects, we think holistically in order to exploit the full potential of requirements engineering:
Requirements Engineering +
Project management
Improved control & reporting
Support for risk & change management
Prerequisite for agility
Requirements Engineering +
Testing
"Quality brackets" through upstream and downstream quality assurance
Interception of the majority of errors
Near- and offshoring support
Requirements Engineering +
Development
Efficiency booster
Mediation to the specialist department
Clean documentation
If desired: Act as proxy product owner in the development team
Hybrid Lifecycle in Requirements Engineering
We think agile and plan ahead! Our hybrid process model combines the advantages of agile methods with sound planning.
Why is requirements engineering so useful?
To find out the expectations of the stakeholders.
Only those who know their expectations can develop a product that meets these expectations. This is called stakeholder management, i.e. the identification, analysis and communication of expectations as part of RE.
For the successful introduction of software.
Because this only works if the requirements have been fully clarified beforehand.
To make forecasts about deadlines and costs and to draw up plans.
Knowing the requirements is the basis for forward planning, not only in product development, but in all business activities.
To reduce development costs.
By identifying and analysing requirements before production, misconceptions can be avoided in the best case. If misunderstood requirements analysis occurs, it can be remedied at any time, even in the early stages of production, before the function, the product is actually applied, which has a positive effect on costs.
For the further development of products, systems or software.
It often happens that changes with regard to legal requirements, functional requirements or features occur already during the development phase, but at the latest during operation. With RE, a basis is created that is also available for the further development of a product. Requirements engineering is thus a continuous process that is important in every development phase.
To avoid failed projects and developments.
If one forgoes the elicitation, analysis and management of requirements, there is a greater chance that the end result will not fulfil the purpose it is intended to fulfil