Explore our regional presence by visiting our dedicated country pages
msg Plaut - we are "Best of both"
msg Plaut is a corporate group of independent companies in Austria, CEE and CIS. As a Vienna based international service provider we combine business management and strategic consulting with intelligent, sustainable industry-specific IT solutions.
We specialize in digital ecosytems and support customers with a broad range of services and extensive SAP and Microsoft technology expertise. Customers, partners and employees are the focus of our corporate strategy, which has been developed with empathy and sensitivity and is based on the diverse talents of our powerful group of companies. This consistent approach allows us to grow continuously and is the basis of our excellent reputation as an accomplished, innovative industry specialist.
We are part of the msg Group with over 10,000 experts and, thanks to our ownership structure, enjoy decision-making freedom that other international or listed companies do not have. We are reliable, experienced, global and yet flexible, committed and empathetic:
"The best of both".
This is reflected in our projects and customers. With over 760 employees in CEE and CIS and 200 in Vienna, Graz and Ansfelden, we implement what others only talk about: The digital life for all of us!
years active
in the market
The Future of Mobility
The future of mobility and its impact on
technological progress in various industries
is one of msg Plaut's focus topics.
We are looking at the impact of the powerful quartet of technology trends, ACES (Autonomous Driving, Connectivity, Electrification and Shared Mobility), particularly on the automotive, public sector, insurance and banking industries, which face major challenges from advances in autonomous driving, connectivity, electrification and shared mobility.
Prepare for the mobility of the future now - we will be happy to support you.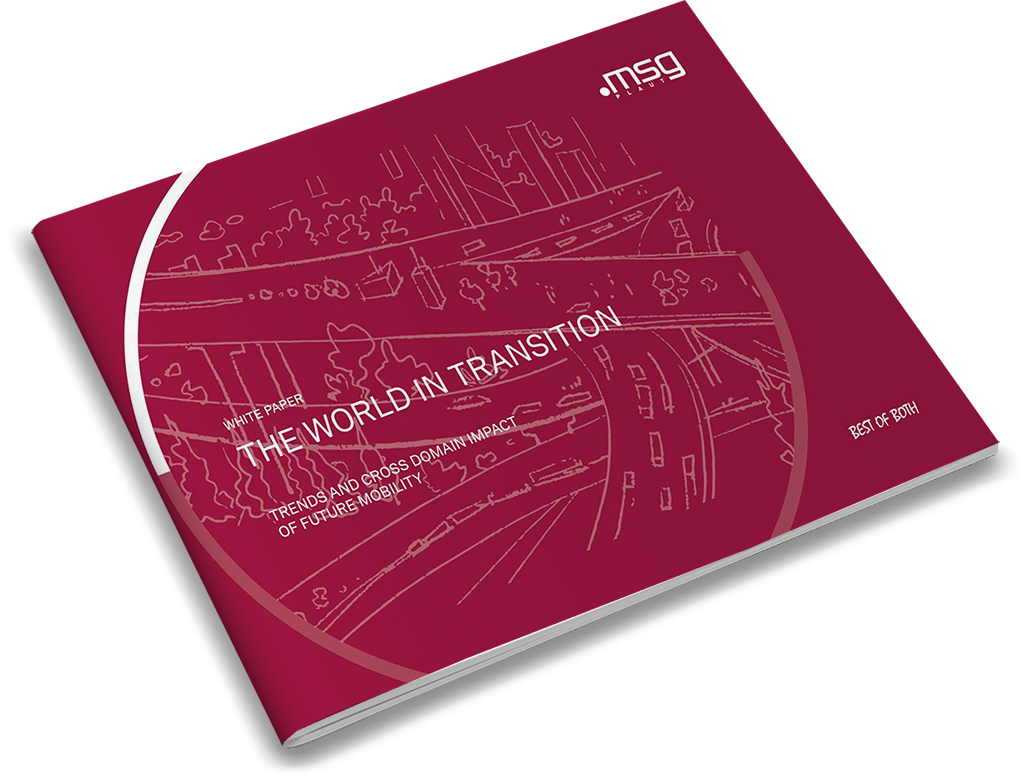 Our Portfolio
Strategy process
Digital topics
Research projects
Crisis management
Security
Programme management
Project Management
Project controlling
Stakeholder management
Requirements analysis
Business analysis
Data analysis
Model Based Systems Engineering
Analysis
Development
Transfer
Optimisation
Operation
SAP Solutions & Services
As a certified SAP Gold and Solution Extension Partner, we have over 40 years of experience and offer a comprehensive end-to-end approach to update your ERP investments to the latest technologies such as SAP S/4HANA and cloud solutions. Our team of experts supports you in traditional SAP projects as well as the implementation and utilization of SAP Solution Manager, SAP Fiori, and/or SAP Business Suite. We embrace modern development paradigms to fully leverage the potential of the technology. With our expertise in cross-border projects and an international team spanning 35 countries, we are here to assist you in SAP transformations and rollouts.
Microsoft & SAP: The Digital Clip
We combine SAP and Microsoft, enabling you to directly access SAP data through the user-friendly Microsoft front-end without any disruptions. Through our Microsoft Competence Center and SAP Hub, we seamlessly integrate these two technologies, allowing you to work optimally. You benefit from the best features of both worlds: SAP and Microsoft. Our goal is to provide you with effective tools for streamlined workflow. We prioritize the user's tasks over programs, systems, or technologies.
Microsoft-Consulting
msg Plaut is a full-service partner for Microsoft and Microsoft Azure. With extensive expertise and practical experience, we provide solutions for the modern workplace, development, and operation of the Microsoft Azure Cloud, as well as the integration of SAP into Azure. As a long-standing Microsoft and SAP Gold partner, we are one of the leading SAP Solution Extension partners globally, making us the ideal partner for integrating SAP into Azure or Microsoft 365.
Quick Facts about msg Plaut
We are a successful international product-based consulting group with headquarters in Vienna. Our company combines business management and strategic consulting with intelligent, sustainable value-added solutions and industry-specific IT solutions. As pioneers in the dynamic world of digital ecosystems, we provide a wide range of services to customers in Austria, as well as the CEE and CIS countries
In which industries are we active?
What are our core competencies?
We support our customers in the areas of:
SAP Finance:
ECC, S/4HANA, Finance in the insurance environment, Analytics, Rollouts
SAP Logistics:
ECC, S/4HANA, Rollouts, core processes in purchasing, warehouse, sales
Microsoft:
Modern Workplace, Microsoft Azure, SAP on Azure, .NET Development, Microsoft Infrastructure/Operations
Development & Test Management:
Requirement Engineering, Architecture, Software Development, Test Management, Java, .NET, ABAP
What makes us different from other companies?
How many colleagues work with us?
We have 200 colleagues in Austria, and the msg Plaut Group as a whole has approximately 760 employees.
In which countries are we represented?
Where in Austria do we have locations?
Owner-Managed International Diversity
As msg Plaut, we are part of the German, owner-managed msg group with 8,500 employees in over 30 countries, which is one of the leading IT and industry solution experts in the DACH region.