Operational effort in controlling reduced by up to 90%
msg Plaut uses its own expertise for the digitalisation and automation of the financial sector.
The introduction of SAP Analytics Cloud (SAC) enables Group-wide reporting, planning and predictive analysis at the push of a button.
Initial Situation
Today, it is vital for companies to remain innovative and flexible to react to changing market conditions or to be able to quickly replace classic products with new services. In order to remain competitive in the future, the digitalisation of the finance area is essential.
In addition, msg Plaut had to invest a lot of time and effort in planning and reporting, which resulted in non-transparent processes and inconsistent data. Distributed data sources, heterogeneous structures and time-consuming retrieval of information were the result.
The first step and the basis for all further steps was the introduction of S/4HANA in all 6 national companies of the msg Plaut Group.
The opportunity was taken to standardise structures and processes and to modernise the controlling concept. S/4HANA also created a central data source for all companies (single source of truth). The financial processes were optimised, made transparent and largely automated. This led to a significant savings effect.
Building on this, the next goal was to create a uniform group-wide management and controlling platform for reporting, planning, forecasting and predictive analysis. The requirements were state of the art user access, real-time availability, compliance, and transparency as well as a massive reduction of the ongoing effort in controlling and accounting.
Challenges
The time component in particular was a challenge to overcome. After the realisation of S/4HANA at the end of 2020, the introduction of the SAP Analytics Cloud (SAC) took place in various phases between Q1/2021 and a scheduled completion by Q3/2022.
The following processes were mapped in SAC at msg Plaut as planned:
Reporting in any granularity and for different user groups
Planning and forecasting
Predictive Analysis
Integration of CRM (SalesCloud) and sales management
Liquidity Management
Project Management
Resource Management
SAC is very flexible and individually adaptable to the respective requirements. At the same time, decisions made have long-term effects. For this reason, the processes and structures were analysed and a future-proof controlling concept was defined before implementation.
Only then did the technical concept and implementation planning follow. To get to know the possibilities of SAC, the classic project approach was combined with methods of agile project management. In order to get the employees of the finance and controlling departments involved, they were integrated in the entire conversion process and trained accordingly.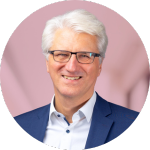 "With the SAP Analytics Cloud, we can easily and quickly obtain transparency and insights into the current situation in all our countries. Evaluations from different perspectives are easily possible for all managers. Our controlling team finally spends most of its time on content analyses and no longer on data preparation. And best of all, there is finally a single source of truth, and everyone is talking about the same values."

Georg Krause, Board, msg Plaut AG
Solution
Due to the long-standing partnership with SAP and the great expertise in SAP projects, the decision to use SAC as the company's own planning and reporting tool was obvious.
Users can now retrieve reports in any granularity at any time and from anywhere in real time. With the help of S/4HANA, the data is stored in a single table with the same structure. The user interface can be fully customised to the user's requirements.
With SAC, the specialist department very efficiently and quickly implemented an individually customised solution for integrated financial planning. The existing structures from S/4 HANA could be completely adopted and used as a basis.
The SAC implementation works optimally in conjunction with the S4/HANA implementation. In addition, other solutions can also be integrated. For example, the SAP Sales Cloud was also integrated into the SAC and thus supports sales management. Together with actual data and resource planning, scheduling and project management have also been optimised.
Benefits
The implementation of SAC has resulted in significant benefits for different levels of staff: our board as well as all management levels, sales and project staff or budget managers have easy access to all information relevant to the management of their area. Data is available in real time and thus enables fast and efficient control.
The planning process has been significantly simplified and made transparent. Changes in the detailed plan are immediately visible in the overall planning. Any planning simulations show alternative courses of action.
The introduction of SAC has led to a reduction of the operative effort for reporting and planning in controlling by about 90 %. Controlling no longer has to deal with data shovelling, reconciliation, or controls, but now has sufficient time for analyses, simulations, and strategic controlling (Lights Out Finance).