Highly effective cloud environment platform
Today, doing business in digital is a state of mind. When it comes to the management of reinsurance, all insurers are expecting full system support when dealing with outgoing reinsurance premiums, calculations of all relevant reinsurance values, and reporting. That is why efficiency-oriented companies are looking to bring order into the until now tiresome processing of long spreadsheets and complex statistics.
UAP.Reinsurance is an effective cloud-ready solution which perfects the full range of services required by an insurance company for end-to-end coverage across the entire insurance value chain of its life cycle. The system supports, both proportional and non-proportional reinsurance, including obligatory as well as facultative reinsurance. Our solution makes it possible to keep all of your reinsurance treaties in one place defining rules of settlement of reinsurance values, have all information at hand at any given moment, and to link those reinsurance rules, to an arbitrary number of reinsurance companies. With UAP.Reinsurance also being a user-oriented system, it also enables the user to gain insight, not only on which parts of insurance contracts are reinsured, but also the distribution of reinsured risks within the process of underwriting.
Make it part of your IT landscape as an integrated part of your system, or use all of its services as an independent system, either way, gather, centralise and analyse your reinsurance data with precision and speed.
No fashionable words, just technology that works

Our highly efficient standard IT-solution optimizes your administrative processes, provides extensive mapping of all relevant data, and offers a uniform system architecture, thus ensuring optimal and secure implementation of your reinsurance business.

Well-predefined interfaces make sure for a seamless workflow of all your business processes. Ranging from the import of contract states, technical provisions, claims and claim reserves directly from the contract administration system, the export to the general ledger and Data Warehouse, up to the authorization service and UI, UAP.Reinsurance supports a secure and dependable information exchange and quick production start to all times.

Our microservice-structured software solution can be deployed in the form of Docker images and is therefore cloud-ready. With cloud come various possibilities and opportunities for your company, such as the ability of auto scaling, advanced resilience and self-healing mechanism, replications over different data-centres and time zones, detailed monitoring, 24h/7 availability, modern security technologies and all the other benefits that come with cloud environments.

UAP.Reinsurance offers a synchronized support of contract management systems in order to provide information regarding reinsurance portions and accumulation of risks in the offer during the quoting process.

The option of prescheduled batch-processing enables you to significantly increase the automation of complex routine tasks as well as reduce processing times. Our solution significantly boosts productivity and processing quality within the digital world of processes.

Since our software solution is cloud ready, msg life can provide the application environment, software maintenance, and technical operations. The service-level with its flexible financing models can be individually tailored to your needs.
Your advantages
High degree of investment protection and future security provided by service-oriented system architecture and cutting edge Java technology
Short implementation phase within approx. 2-3 months from project launch to deployment, including system configuration and parametrization as part of our standard service
Data migration tool & migration expertise ensure a seamless transition from previously used systems
Fully cloud-oriented, thus providing greater speed, accessibility, sustainability and reliability of the solution
High level of integration with core systems, such as contract administration systems and peripheral systems, for example, general ledger
Software as a Service &
on premise
Multi-lingual and multi-currency features are part of the standard package
User-friendliness through an intuitive user face enabling simple configuration
In- and outgoing billings are made possible via reinsurance settlement
UAP.Reinsurance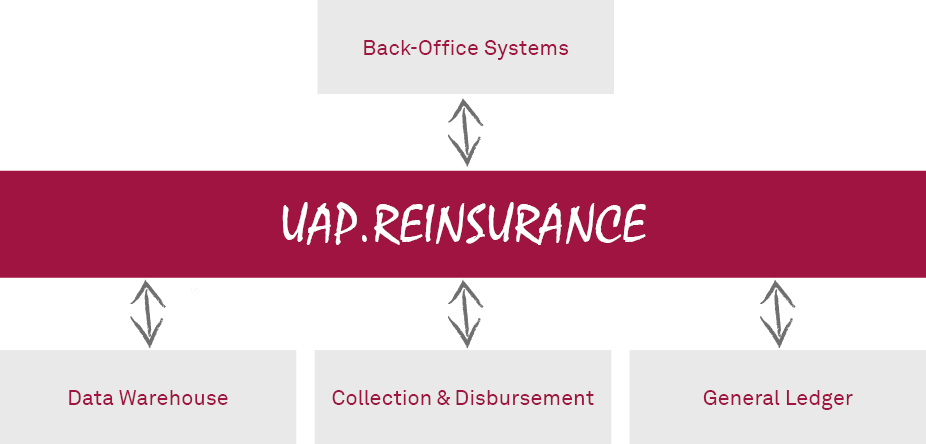 This might also interest you: